Welcome to the eNetwire News Wire Award!
We search the net for the hottest newest coolest web sites, and only the hottest newest and coolest web sites will win our award!
We only take the hotest sites...right off the wire! Think your site is News Wire Worthy? Well fill out the form below to find out!
Please, no illegal or hate web sites, no pornographic sites, and no software piracy or warez sites.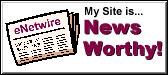 (The Award)

We will take a gander at your site and let you know if you win or not.